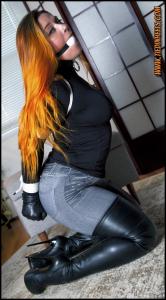 14 photos; 9:31 video
SUPER SEXY QUINN CARTER VISITS TIED IN HEELS TO TRY ON SOME RIDICULOUSLY HIGH, HIGH HEELED SHOES AND BOOTS! AFTER AN EXTENSIVE FITTING SESSION QUINN FALLS IN LUST WITHA PAIR OF INCREDIBLE HIGH HEELED THIGH HIGH BOOTS! WOW, THESE BOOTS FIT HER LIKE THEY WERE CUSTOM MADE FOR HER! NOTHING BETTER THAN A SEXY WOMAN IN PERFECTLY FITTING, TIGHT BLACK LEATHER THIGH HIGH BOOTS! QUINN ALSO WEARS SKINTIGHT JEAN LEGGINGS AND a skintight turtleneck top and to finish off her sexy outfit she wears short black leather gloves! quinn looks super sexy in her tight fitting outfit and tight, heeled boots! she is definitely a natural bootgirl...and around here bootgirls get bound! quinn readily submits to my ropes and gags! her sexy, lucious body was made to be tightly bound! a huge white ballgag keeps her sweet whimpers to a minimum! good thing there is a huge selection of heels and boots to be roped up in...poor quinn has a long journey ahead of her in captivity at tied in heels!
This VIDEO UPDATE ALSO INCLUDES A GALLERY OF FULLY EDITED PHOTOS FROM QUINN'S THIGH HIGH BOOT SET!