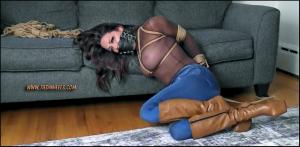 12:00 video
gorgeous bondage goddess sarah brooke enters the tied in heels compound looking just fantastic! skintight jean leggings, tight, see through top and incredible, skyscraper high heeled, brown leather, platform knee boots! it seems that miss brooke was looking to get tightly bound and gagged!
so that's what we do to her! she submits to tight bondage but gets more than what she bargained for...the unforgiving jute rope is applied tightly around her lucious body and sexy sarah begins to regret her decision! it's too late, she's been captured and now she will be fully controlled!
sarah endures tight bondage and she is kept quiet with a black leather bishop gag...a huge red ball fills her mouth behind the leather gag, this keeps her protests and whimpers to a minimum!
sarah fights her bonds but it is no use...her captor keeps a close eye on her...just to make sure she doesn't get away and stays for an extended period of time, he snaps her into a tight hogtie and leaves her to struggle! maybe sexy sarah wore these sexy boots just to be tied up and gagged and held cative for the night!