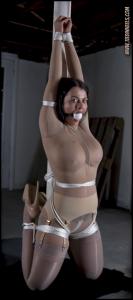 6:55 video
sexy nadia is dressed in a skintight, see through catsuite and incredible, skyscraper, high heeled bern serafin thaler high heels! nadia wears a layered look, silky smooth stockings with a garter belt over her catsuit! looks like sexy nadia wanted to be captured and taken to the basement dungeon for some playtime!
nadia is placed on the dungeon post and tightly roped up! a huge white ballgag keeps her very quiet! she then is tightly frogtied to get those sexy heels and feet in proper postion! nadia is totally immobilized! she can barley struggle for her freedom! nadia struggles in anticipation of what's to come...her captor strips her of her skyscraper heels, exposing her delicate, soft sexy stockinged feet...her armpits are also totally exposed and vulnerable!
now nadia is subjected to some tickle torture! her captor targets her armpits and sext soles, his attack is relentless! poor, sexy nadia has nowhere to go...she must endure her torment! her sweet giggles, moans and her squirming are fantastic to watch and hear!